Ideas For That

Fireplace Design Pe

rfect Design!
A boring fireplace design is not something that is attractive to say the least. And with all of the cool options and styles you have to choose from these days, it never needs to look that way. There is no reason not to take control of the feel of your home by honing in on that perfect fireplace design idea.
To truly unlock the potential in any fireplace, you have to know some common design fundamentals. These deal with three things -- the hearth, the opening and the firebox. Additionally, you have to take into consideration how these three elements will tie into the room in which the fireplace rests.
So first, let's discuss some terms. The hearth is the outside of the fireplace, generally speaking. The firebox itself is where the fire is burned and contained. The opening is the shape of the opening of the box. Generally it will be a rectangular opening.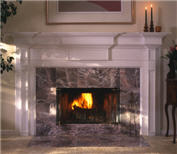 When contemplating different design ideas, start with the hearth. You should consider different positional placing for the hearth. You can have it rest on the floor. Or you can suspend it so it is above the floor. The final option is to sink it, so it rests lower than the floor.
There is also the occasional fireplace design idea that does not incorporate a hearth at all. In these special circumstances, there are things you must do to the firebox so the floor doesn't get burned. You can dress your fireplace up with different hearths.
If you are on a budget, this is where you can really stretch your dollar to design something that looks beautiful but is inexpensive.
The firebox itself is pretty straightforward, and like the hearth, generally is designed in relation to the floor. Also, the size of the firebox should be taken into consideration.
While most design ideas incorporate a rectangular fireplace opening, it doesn't mean that you have to. For example, you can flare out the opening; you can even flare it inward, toward the fireplace.
Or perhaps you'd like to arch the top to match other design elements in the room. Or maybe you'd like to try something unique and create a fireplace opening that has no straight lines at all, but is one long curve. The most likely place you'll see these opening are in homes that have a southwest theme.
Remember that each of these elements will affect all other elements, and also will influence the feel of the room. Keep this in mind when considering different fireplace design ideas.