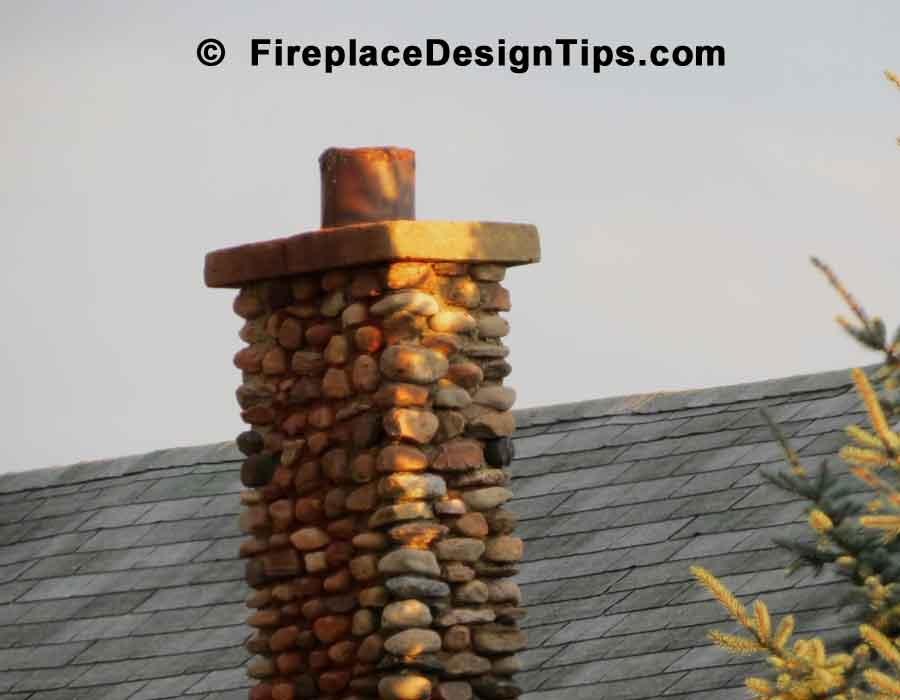 This stone chimney is a substantial height and extends above the peak of the roof, many municipal building codes require this, and requiring a deep concrete foot base to sit on. Rustic top plate and flue adds to the esthetics of a stone chimney.
Stone Fireplace
Stone fireplace is a wonderful addition to any home. Wood fireplaces are a must have for for cottages, ski resorts and country properties, as nights get cooler and there is less to do outside.. then just congregate around the fireplace. No replacement of the pop of hot embers and the smell of wood burning.
Stone Fireplaces
Natural stone and rock used indoors or outdoors are attactive textured components in any fireplace design?
Check out some different fireplace style ideas: a few natural rock fireplace designs, quarry cut stone fireplaces or some brick fireplace design photos.

Fireplace Design Navigation

Fireplace design categories are listed in the right hand column. Lower on this page are links to different fireplace pictures, a feature to convert FireplaceDesignTips.com to your favorite language.
Recent Fireplace Design articles and photos are listed at the bottom.
Fireplace Design Pictures, Corner Fireplaces, Outdoor Hearths ...
Fireplace Designs, Recent Fireplace Design Articles

FireplaceDesignTips.com can be viewed in over 50 Languages

To view the Fireplace Design categories in your preferred language choose the "Select Language" on the scroll down menu to your language ... then wait a moment and new Fireplace Design pages will appear. Enjoy our Fireplace Designs and beautiful Pictures of Fireplaces.