Fireplace Surround Designs - How To Get Started
To design a stellar fireplace, you have to accent it with a great fireplace surround design. With so many things to consider, it can seem difficult to even get started. That's why this article was written, to help you begin the process of choosing the right fireplace and fireplace surround design.
The first thing you need to do is brainstorm on how you plan to use your fireplace. For example, if you're actually going to burn a fire in it, then you will have to consider how you ventilate it. Also there are clearance requirement that need to be taken into consideration.
So what you need to figure out is if your fireplace is going to be used just for entertainment purposes or to actually be used to add additional heat to the home. If there are going to be practical uses for your fireplace, then there are also going to be certain restrictions on your options for decorating it.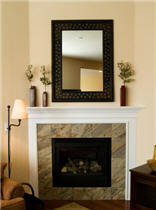 At the very least you should know -- if you're designing a fireplace on a budget, you shouldn't plan to use it more than just occasionally, such as during the holidays and certain special get-togethers. Otherwise it will be a pain to upkeep and to clean.
At the simplest level, a fireplace is no more than a box that contains the fire. However, you can make it look elegant with the right fireplace surround. Not only will it add beauty, but it will give the room its own personality if you customize your fireplace design.
When it comes to the surround, you should spend most of your time picking something that will complement your mantel and trim choices. Your mantel and trim will affect the overall appearance of your fireplace far greater than anything else on your design.
However, be budget conscious because certain mantels and trims can be expensive. Also, take into consideration whether you want a traditional or temporary design. This will largely determine what type of surround style you will use.
Keep in mind that your choices for material include limestone, cast iron, wood, culture stone, plaster, resin and marble. By combining various elements, materials and styles, you'll have a practically unlimited amount of fireplace surround designs you can create.