Fire Pit Designs And Tips
Outdoor fire pit designs have come a long way in recent years. Gone are the days of having a small pile of rocks and in are some of the most attractive designs you could imagine.
Today's fire pit designs utilize both wood and natural gas as a fuel source. And the allure of the burning fire they produce while sitting on the patio is becoming one of the hottest home design trends in the country.
Types Of Fire Pit Designs
One of the more common types of fire pits is the ones that are in-ground. This is where a hole is dug out and then a stonewall constructed around it. The wall is actually extended about 1-2 feet above ground to prevent the wind from blowing out the fire.
This type of fire pit is also functional in being able to cook food over if you desire.
A chimenea is another very nice looking and popular pit. A chimenea is one that has been around for centuries now and offers a simple, yet classic, fire pit design.
Most chimeneas are made out of ceramic, but you can also find them in iron, copper and other materials. The chimenea is a round, potbelly type of pit with a flared stovepipe and open front to add wood.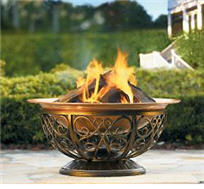 Portable Fire Pits
Another common type of fire pit is the copper bowl. These attractive pieces sit up off the ground on legs and are shaped like a large dish. You simply throw on the logs and have a smaller version of a bonfire. (Screens protect you from embers or anything getting into it.)
You'll also find all types of smaller fire pit designs that may be square, round or in a rectangle.
For those who desire to use gas instead of wood, there are all types of gas fire pits you can find. And if you do not have access to natural gas, there are even propane designs you can use.
It's amazing at how far these designs in fire pits have come. You should easily be able to get one that is perfect for your backyard and tastes.