Fireplace Design using Cast Iron: Fireplace Designs!
Cast iron adds an old world rustic, enduring charm to a fireplace design that is unmatched by stone fireplace materials. Brick is welcoming, stone is elegant, and other materials may be more modern.
But there is nothing as rustic, welcoming, and durable as cast iron fireplace designed wood stove, surround or cast iron fireplace insert.
One of the beauties of a cast iron fireplace design is that it fits well into many room design aesthetics.
Your fireplace design process can take cast iron in many different directions.
From a full cast iron fireplace surround to a cast iron fireplace insert, this durable iron material is molded and shaped to match and create many different styles and uses.
Cast iron fireplace design will last a very long time, possibly beyond your years.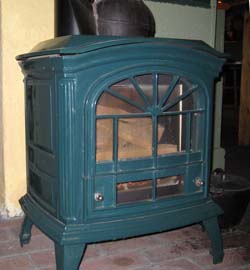 The other benefit of cast iron is that it's a very useful material, and this certainly holds true in needs for a good fireplace design. As an insert, it helps contain heat and avoid drafts, and will absorb heat to help keep the room.
Cast iron fireplace insert evenly warms without becoming a safety hazard , as with an insert the wood burns within an enclosed steel cavity, usually, with the flames visible through a heat treated clear glass window. Wood and logs are added through the glass hinged door.
If you are really interested in cast iron fireplace design simply for the rich heritage of the material itself, you could consider also adding a cast iron wood stove to use in or conjunction with your fireplace.
Some people will build a mantle and surround that is extra wide, and then put a small cast iron wood burning stove in front of the original fireplace. As the wood stove is a contained unit, the door closes and no flame or spark is accessible to the house or little fingers touch.
It is sort of a compromise of safety between a traditional fireplace design and going to an electric fireplace. It's safer like an electric fireplace, yet does burn actual wood for that toasty smell you are used to.
No matter how you choose to incorporate cast iron into your fireplace design, it is almost sure to be a good antique older fireplace design choice and feel.
Highly durable and easy to keep clean, and reminiscent of days gone by yet versatile for modern style, fireplace design with cast iron opens up a world of choices .. all of them sure to create a cozy, comfortable, and inviting fireplace design.