Simple Fireplace Ideas And Tips
There is nothing else that comes close to changing the decor in any room like a fireplace. It not only adds warmth physically, but it adds it visually as well. If you're looking for fireplace ideas and designs for your home, consider a few of these tips.
Contemporary Or Traditional?
One of the first things to decide on is whether you are looking to have a contemporary fireplace design or a more traditional design. Naturally, there are good and bad points to each.
The one thing you'll want to keep in mind is that you want the fireplace to maintain the same overall design theme of the rest of your home. You wouldn't want a mismatch of a contemporary or modern fireplace in a traditionally designed room.
What Is Your Budget?
Before you get too far along with your fireplace ideas you want to keep your overall budget in mind. You may find that you simply must scale back your dream fireplace for something more practical.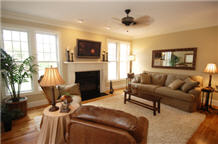 There's many ways of using different materials, but maintaining the same fireplace design idea you initially had in the beginning. Perhaps you need to use faux granite instead of the real thing, or you can use a less expensive type of wood for the fireplace mantle. There are many ways around this that will still give you the design you desire.
What About Ideas For An Existing Fireplace?
For many, redoing an existing fireplace is what they are looking for. And there are many fireplace ideas that you can incorporate here.
Install a fireplace insert. Not only will it improve the appearance, but also it will be much more energy efficient.





Add fireplace tile to the face of an old run-down fireplace. Or you could add a new stone face to it or an art deco design.





Install a new fireplace mantle. Consider a new fireplace mantle design to dramatically liven up the look of your existing fireplace.
These are only a few of the many different fireplace ideas you can put into action. Take your time and you will find yourself with the dream fireplace you've always wanted.