Outdoor Stone Fireplace Design - Your Various Options
For many homeowners, there is nothing quite like an outdoor stone fireplace design. They can dramatically change your home's landscape as well as provide a peaceful feeling. Here are some simple tips to get you started with your outdoor stone fireplace design.
With any type of outdoor fireplace made with stone you will have several options in materials.
-Natural stones - This is the most common material of all outdoor fireplace design. You have the ability to pick from an endless array of natural stones that you can use any way you see fit.
They can be used in the entire fireplace design or only in certain parts of the fireplace. For example, you could have a stone fireplace with a wood mantle or a stone mantle if you desire.
Stone is a very low maintenance material that only requires water sealing every few years. It is also extremely durable.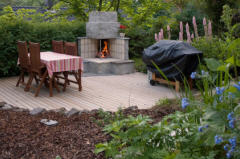 -Cultured stone - This is another option for any outdoor stone fireplace design. The difference with this type of stone is that it is a cast stone. This means its lighter, can be made into different sizes, and it is much easier to handle and set in place. If you haven't looked at this option you might want to.
- Marble/Limestone/Slate/Granite - These are all other popular materials for an outdoor fireplace. Marble is expensive, but has a multitude of design capabilities. Granite works well due to its ease in being cleaned as well as the fact that it is the ultimate in no maintenance.
A stone outdoor fireplace design is one of those areas where you can really use your imagination with. There is no "one" set option, only what you would like.