Granite Stone Fireplace Designs!
Real stone fireplace design has the depth and texture that man made substances can only try to mimic.
When it comes to granite stone, well, if you have got Hollywood tastes or a little elaborate flamboyant tastes .. then granite might be your stone of choice. This is because of the wide and exotic variety of granite colors, some speckled finishes, fine and varied grain patterns which are found in granite stone.
If you are looking for a pearl, ultra white, or primarily white stone design then marble maybe more the way to go. Generally the granite stone colors are not a white or light colored based .. which is the popular contemporary colour design trend of today.
Some examples below, check out the blue granite .. or the wood grain stone pattern .. what kind of fireplace design could you do wth those and create a unique fireplace focal point?
When looking around for granite stone for your fireplace design be sure that you track down the larger granite vendors. The better granite depots of the industry are large warehouses not necessarily on the main street, usually off in some industrial park .. check your yellow pages for granite stone as the best granite warehouses can be hard to find.
There seems to be two granite stone warehouse formats. One is a maller warehouse where they stack the large granite sheets vertically beside each other. You kind of look at them on the sides, find some you like and then get the tow motor operator to pull out the sheet so you can take a better look the granite stone. Can be time consuming.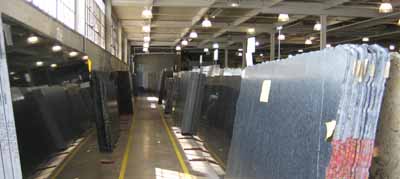 If you are just starting out looking for a granite stone slab design, best locate granite warehouse showrooms that have the sheets laid out on V racks. This way you can see whole granite sheets, their unique grain variety and better decide what you granite stone you prefer right away, without the hassle of pulling granite sheets out to look at.